Meet Kush, a tri-color pit bull who lives with Chris Satterfield and visits the Animal Clinic of Woodruff office regularly.
At home, Kush is described as a one-of-a-kind dog who sleeps more than anything—and especially loves sleeping on the couch. When he does get up to play, his favorite game is chasing a tennis ball with Chris's granddaughter Emma.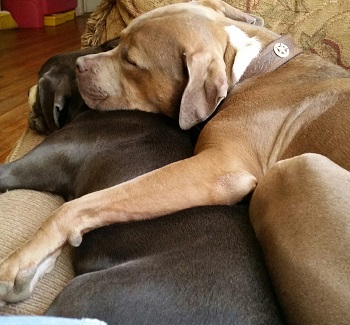 Kush has strong opinions and makes friends easily. For example, thinks he should always ride in the front seat of the car (with his own personal seat belt, of course), and he always orders first at the drive-thru at McDonald's. Not surprisingly, the folks there know him by name.
We love seeing Kush at the clinic because of his fun and loving personality. He'll win over even the biggest pit bull skeptic. Thanks for sharing Kush with us, Chris!